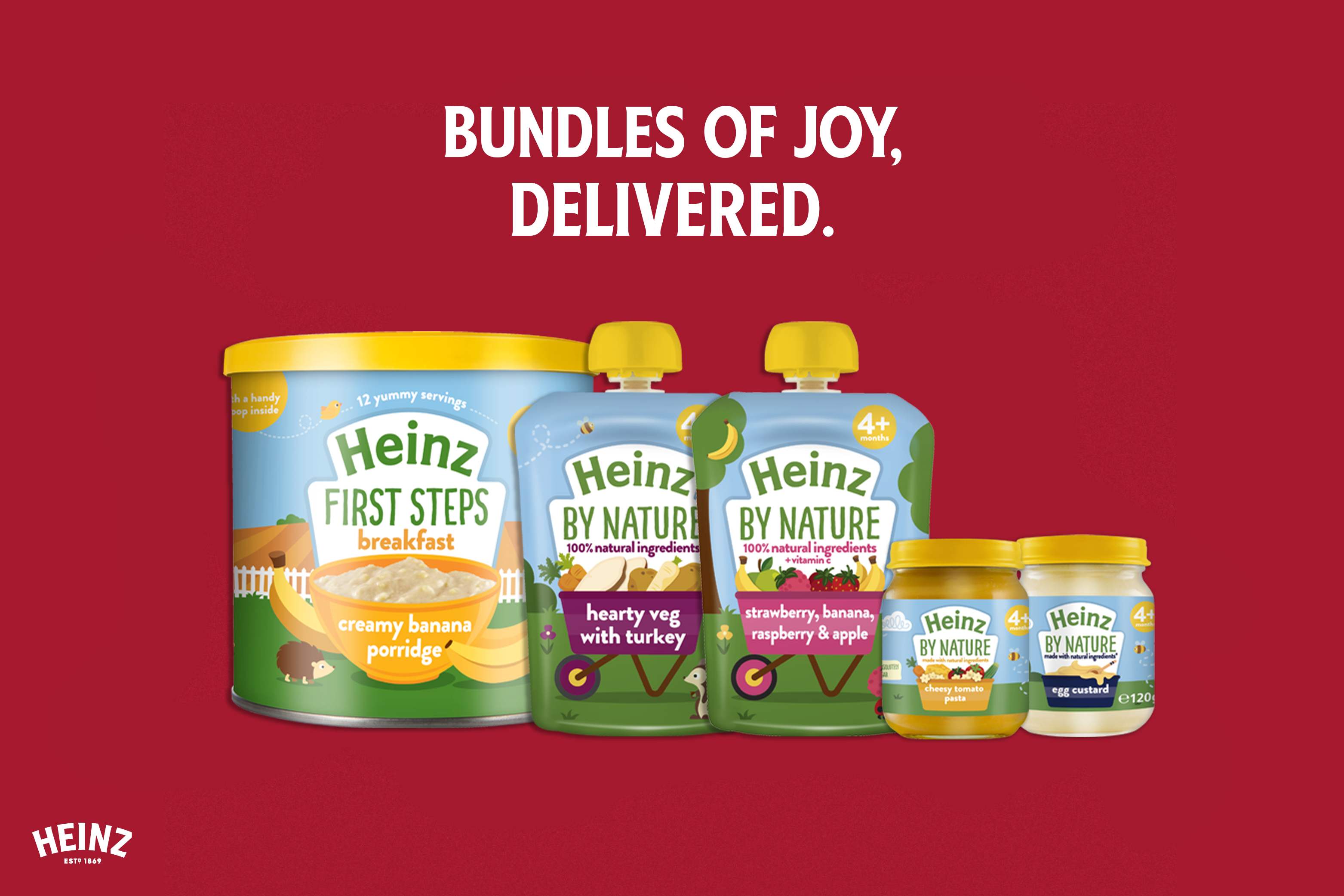 The new Heinz for Baby bundle!
Heinz are pleased to announce that today they are adding a new bundle of Heinz For Baby meals and snacks to their recently launched 'Heinz to Home' online delivery service.
Earlier this month they launched Heinz to Home to help people across the country safely get their hands on Heinz varieties whilst in self-isolation during the Covid-19 pandemic.
The new Heinz for Baby bundle is suitable for 4-6months+ and costs £20 + £3.50 P&P. It will be made up of:
• 6 x 100g pouches of Heinz Hearty Veg with Turkey (Suitable for 4months+)
• 6 x 100g pouches of Heinz Strawberry, Banana, Raspberry & Apple (Suitable for 4months+)
• 6 x 120g jars of Heinz Cheesy Tomato Pasta (Suitable for 4months+)
• 1 x 6-pack Heinz Egg Custard (120g) (Suitable for 4months+)
• 1 x 240g pack of Heinz Creamy Banana Porridge (Suitable for 6months+)
They deliver in just 3 days, making this an easy, simple and quick way for parents and carers to get their hands on Heinz for Baby food without needing to leave their home. They've just extended delivery to Northern Ireland, too.
They're pleased to continue to provide free postage and packaging and priority shipments for NHS, Emergency Services, Social Care Workers and Armed Forces through Blue Light Card and Health Service Discounts.
Jojo de Noronha, President of Kraft Heinz Northern Europe, said:
"When we first started planning the launch of our new online delivery service 'Heinz to Home', helping parents and carers of small babies was one of our priorities.
As a mother, I understand the anguish that comes with ensuring small babies are fed well. This is magnified during uncertain times, not to mention how hard it can be simply getting to the shops whilst looking after little ones, which is hard enough without a pandemic.
This is why we've launched our new Heinz for Baby bundle, and is why we've also just donated 170,000 free baby meals and snacks to NHS staff and frontline workers across the UK to say thank you for their incredible work keeping us safe.
While we continue to work hard to get our most loved Heinz varieties onto shelves of supermarkets and shops across the country, we hope our new Heinz for Baby bundles can make things a little easier for parents and carers across the UK."
If you'd like to share a little love and kindness at this time, then you can also send a Heinz to Home bundle to any of your loved ones. All you need is their name and address and a big bundle of baby meals can also wing their way to their doorstep too.
The Heinz for Baby bundles will be available from www.heinztohome.co.uk from today, making it the third bundle available on the new online shop.
A Sauces Bundle featuring the nation's favourite Heinz sauces – Heinz Tomato Ketchup, Heinz Salad Cream, Heinz [Seriously] Good Mayonnaise, Heinz Classic Barbecue sauce and Heinz Saucy Sauce, and an Essentials Bundle – made up of Heinz Beanz, Spaghetti Hoops and Cream of Tomato Soup – are also already available.