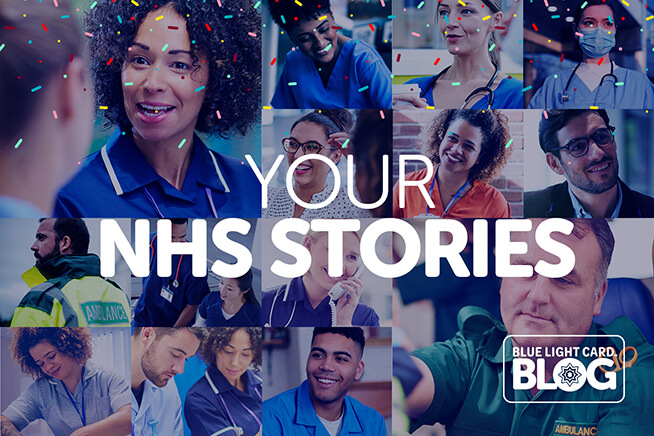 Your stories! It's the NHS's 74th birthday!
Since 1948, our NHS has stepped up to care for and treat communities across the country.
From porters to cleaners, midwives to specialists – whatever our age or background – the NHS is always there for us.
After 74 years, we're celebrating our NHS members' dedication and hard work with not only the amazing range of offers and savings you can expect with Blue Light Card, but by asking you what inspired you to join and continue to serve.
So many of you responded that it would be impossible for us to share them all but as we look back through the years, we wanted to share some of your stories:
Madge, London
"I started working for the NHS on my 20th birthday. It was a temporary post as a receptionist helping a new single-handed GP. However, 32 years later and I am still here employed as a Practice Manager at the same surgery, and I can't imagine doing anything else. I love working with my team, being able to help with the health needs of our community. The gratitude patients show can be very rewarding and makes it all worthwhile."
Julie, Devon
"In 1978, as a shy girl from Devon, I went to the Royal Free Hospital London to undertake my SRN training and over 40 years later I am still nursing! Things have changed a lot, but my heart remains in the job and passion of being a nurse. There have been tough days but just love the support of many wonderful colleagues many of whom remain my lovely friends."
Tracy, Merseyside
"I have worked for the NHS for 25 years. I started off working with people who have dementia for 17 years before moving into adult acute. Working in mental health isn't easy but I have worked with some fabulous people. Having good work colleagues really make a difference. I really would like to thank the staff on Morris Ward at Clock View Hospital in Liverpool as they have really supported me over the past year after returning from a long period of sickness. I don't think we get enough recognition for the job that we do and the difference we make to people day in and day out. Morris Ward really are the best!"
Alison, Northumberland
"I started work on my 18th birthday in 1979 as an auxiliary nurse before starting my training in the October. I always wanted to be a nurse; my dad was diabetic, but I don't know if that had anything to do with it.
"I did a pre-nursing course which involved placements in all areas of nursing General, Mental Health, Learning Disability which totally blew General nursing out of the window, I absolutely loved it. After qualifying, I worked at various places within the hospital and always said no two days were the same before I retired at 55. I absolutely loved it and the majority of the people I met along the way, and I keep in touch with loads of them. Everyone I worked with needs to be celebrated and all who work within the services as well!"
We pride ourselves in being here for those who are here for all of us.
Whether you're looking to treat your team while on shift, your friends and family outside of work or yourself to a little time and TLC; we're here with over 15,000 super savings online and in-store at shops, restaurants, cinemas and attractions across the UK.