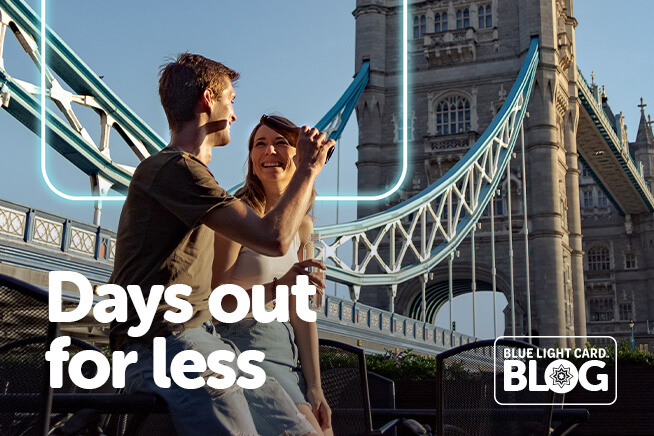 Days out for less!
We love a bargain family day out!
When you want to make the most of your time off and (most importantly) save money (and stress!) planning fun things to do, it can be a palaver trying to find the right offers and discounts to help you maximise your day.
Whether it's food, fun or finding somewhere to stay; explore some of the UK's best cities and attractions for even less when you shop and save on all aspects of your day with Blue Light Card.
Let's do London!
From amazing experiences aimed at all the family to the perfect relaxation spots for those rainy days, we all know London has so much to offer! We also know that the price of a visit (whether for the day, a long weekend or a short summer break) can quickly add up – especially when you factor in travel and hotel stays.
8am – Waking up in the heart of London is amazing when you know you've got a fun weekend ahead that doesn't rely on first battling with traffic or trains. Saving 10% on your stay because you booked with Hotels.com only sweetens the deal.
If you're visiting for a special occasion or prefer somewhere slightly fancier, you can even stop over at Hyde Park's Hard Rock Hotel (nabbing a cheeky 20% off their prepay rates - on top of their on-site savings if you catch them during a sale!) or save 20% on your stay if you choose to book with IHG Hotels and Resorts.
9.30am – Book a table, sip a smoothie and bite into a stack of pancakes, a traditional full English or even smashed avocado on toast with 20% off your bill at Bill's! Just let them know you're a member when you arrive.
11pm – If you're a history-lover, why not descend into the depths of London's dark past and scream/laugh your way through 19 state-of-the-art interactive shows with super savings on day tickets to The London Dungeon!
1pm – Lunchtime and high time for coffee, a spot of lunch or a slice of cake? From iced teas and toasties to lattes and hot chocolates, get 10% off your Starbucks order!
2pm – Treat yourself to a glass of something nice and enjoy a 40-minute sightseeing tour along the Thames with 14% off day tickets for the lastminute.com London Eye River Cruise. Settle back and spot some of our capital's most famed landmarks and learn about some lesser-known historical locations.
3.30pm – Fancy a spot of shopping? Need a new pair of shoes? Brave the crowds and explore Oxford Street with super savings on some of your favourite high street brands including:
- River Island – 15% off full price items in-store
- OFFICE Shoes – Receive 10% off in-store
- Schuh – Save 10% in-store on full priced items
- The Body Shop – Get 20% off full priced items in-store
- 7pm – Enjoy a taste of the ocean in the heart of Covent Garden with 20% off sustainably-sourced fish and seafood (plus, some meat options) with Loch Fyne Seafood and Grill. From fresh oysters to seasonal specials, this restaurant also boasts a beautifully complementary wine list.
- 10.30pm – Save the stress and head home for less with 20% off your coach ticket with National Express!