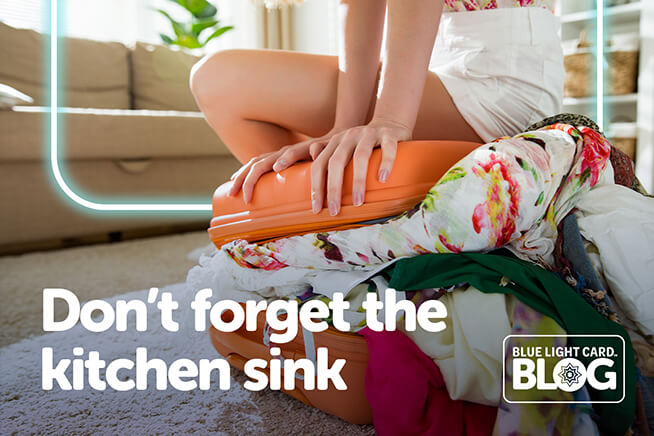 The holiday essentials our members can't travel without
It's the start of summer and - with 56% of Blue Light Card respondents booking a holiday abroad this year - we know how much many of you may be looking forward to a well-deserved break.
Make your home away from home your own with creature comforts and holiday essentials for less with Blue Light Card!
Whether it's a boozy weekend away with your mates or a week (or longer) flopping by the pool with your family, somehow the hot weather always feels that little bit better when you're enjoying it away from home.
Saying that, many of us have experienced the frustration of arriving at a hotel, BnB or campsite only to discover they don't have towels or teabags, or - even worse – have returned home only to realise you've left something important behind!
Whether it's insect repellent, a portable phone charger, or your favourite pair of fluffy slippers; sometimes you need to bring 'home' with you to feel at ease. Log in and start shopping or find out what essentials your colleagues across the Blue Light community make sure they never forget to bring when going away.
"I always take my coffee abroad. Always a full jar of original Nescafe, and then I leave it in the hotel for the owners to enjoy.", said Lanarkshire NHS worker, Georgina, "I also always bring a new memory card for my phone too, so I never run out of space for my holiday snaps!"
Social care worker, Kate, from Staffordshire, however, told us that she never forgets to bring "an extension lead as it's easier than having to plug and unplug all the time and means you only need one adapter!" She also makes sure to bring "A pair of scissors as most people buy new clothes for holiday and they come in handy for cutting off all the tags."
Stephen and Fiona also are strategic in what they bring on holiday, choosing – rather than the expected light reading and comforting snacks – to instead skip baggage fees and potential bathroom mishap by investing in lightweight suitcases and even soap trays!
"With airlines charging for everything," says Fiona, who works in social care in South Lanarkshire, "it's important to be able to take full advantage of baggage allowances. It's crazy the difference between suitcases." Stephen, an Essex-based NHS worker, always makes sure he brings "a soap tray with suction pads to stick on shower tiles or tile screen. So many showers have nowhere to put soap/shampoo/ flannel!"
Whether it's a hotel, flights, airport parking, last minute essentials or just a little treat, we've got offers to help you save more on your holiday.So, skip the queue and save time and stress when planning a trip this summer – only with Blue Light Card!