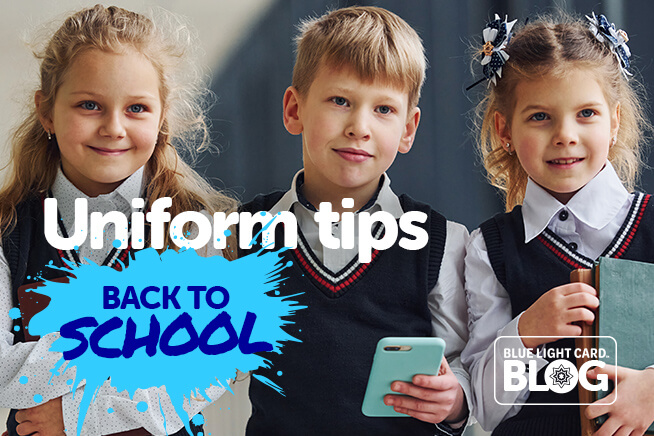 Make school uniforms last longer with member top tips
The new school year is approaching and - with 66% of polled members claiming to purchase their children's school uniforms during August - we know the cost can quickly add up.
Growth spurts aside, kids can get into all sorts of scrapes on the playground making buying uniform that will actually last the whole school year feel like a challenge.
That's why – alongside our fantastic range of 'Back to School' offers – we've asked our members for their best tips and tricks for stocking up on the essentials and making things last for less.
Buying crease and stain-resistant clothes is, naturally, a bit of a no-brainer; saving you from stubborn stains and the hassle of ironing but getting scuff-resistant shoes and trousers with reinforced knees is also important – especially if your little one likes to be active in the playground!
Hit the supermarkets
"Lots of supermarkets have a great range of school uniform at really reasonable prices", says Yorkshire NHS worker, Joanne. "I have used the 10% off at Asda to buy my grandchildren's uniform and the 20% off at JD for the footwear - I always buy a size up as they grow so fast!
"I tend to get a lot of things at the beginning of the holidays so I'm covered but I utilise the sales near the start of term time to buy any extras I need without panicking that they will be sold out."
Look out for your school's PTA events
Kirstie, who works as a Health Visitor in Tyne and Wear says, "My school's PTA set up stalls at the end of term to give away donated items and unclaimed lost and found bits of uniform. There was also an optional donation to the PTA for it too but no pressure."
Stock up on stationery supplies
Tracy who works for the NHS in Oxfordshire however claims that "Stationery was always my biggest weakness so what I now do is - at the end of term I take my daughters pencil case and general stationery collection, sort through it and see what is actually needed and make a list from that.
"In secondary school they seem to go through glue sticks like mad, so I bulk buy those from Amazon and keep an eye on the offers with the online shopping. Last week, my local supermarket had some bits going for half price too, so I added them to the shopping to spread out the cost..."
Are you a savvy shopper or are you stressing about getting everything organised before September? Don't worry! If you work for the NHS, emergency services, within social care or as part of the armed forces, you can sign up to Blue Light Card and save every time you shop!
Register today to get started!