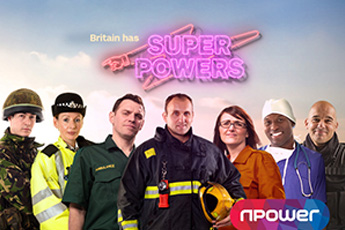 Special BLC npower energy tariff
npower has launched its 'Everyday Heroes Fix', a new tariff exclusively for employees of the emergency services, NHS and Armed Forces, who hold either Blue Light Card or Defence Discount Service memberships. The tariff is on average npower's most competitive deal* and fixes energy prices until December 2018, offering these everyday heroes a great deal on their energy and protects them from price rises until the end of next year.

The tariff is exclusively available to Blue Light Card or Defence Discount Service members, regardless of whether they are a new or existing npower customer, pay by Direct Debit or on receipt of bill, as long as they manage their account online. The npower offer is available by logging on to bluelightcard.co.uk or defencediscountservice.co.uk.

Anne Chappell Smith, Head of Partnerships at npower, said:

"Our new Everyday Heroes Fix is a first-of-its-kind tariff which has been created to give our best price to the nation's unsung heroes. We wanted to come up with a great product for military personnel, law enforcement officers, firefighters, ministry of defence and healthcare providers to recognise their special contributions to our community.

"Should they wish to choose our most competitive tariff, these everyday heroes will benefit from a fix deal, greater price certainty and security to help plan and budget their energy costs over the course of the next 18 months."
Tom Dalby, MD of Blue Light Card said:

"We are extremely pleased that npower is recognising our everyday heroes. Those in the Emergency Services, NHS and Armed Forces work hard for our communities and within our communities and it is great that npower, as an energy provider, are recognising what these wonderful people do."

Blue Light Card provides discounts for the UK's Emergency Services, NHS and Armed Forces both online and on the high street. Defence Discount Service is the official Ministry of Defence discount service providing discounts online and on the high street for the UK's Armed Forces Community, including Veterans.

*Our cheapest energy deal: Compares Everyday Heroes Fix December 2018 with all our other currently available tariffs. Based on a standard single rate meter customer with a typical annual average electricity consumption of 3,100kWh and/or gas consumption of 12,500 kWh. Costs are averaged across mainland UK and include VAT at the reduced rate of 5%. Actual comparison/annual cost will vary according to the number of fuels taken, the applicability of discounts and by region, consumption and meter type and charges could be higher than our Standard charges. Correct as of 10/07/17.