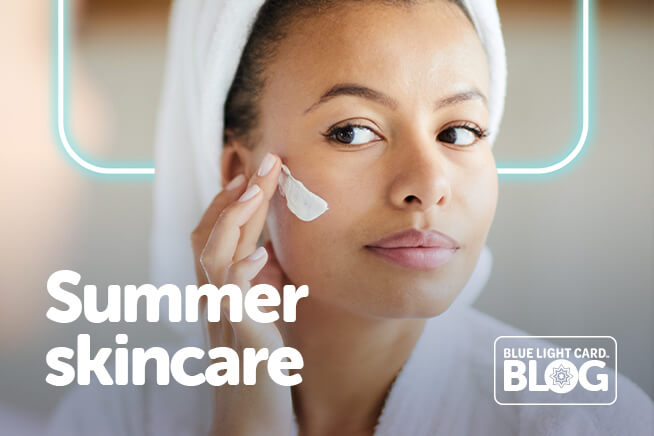 Super simple skincare tips to help you stay cool this summer
It's a bit warm, isn't it?!
Hot, dry and humid weather can play hell on your skin – especially when you're spending your time in an emergency service vehicle, constantly on your feet or in areas with either no air conditioning or ALL the air con.
A solid beauty and skincare routine that works around both your shifts and your skin needs to be personalised to you. Keep your skin safe and smooth with our top tips on summer skincare (that won't break the bank) and see how your colleagues are keeping cool, calm and protected.
Stay on top of your H20
Hard work makes for thirsty summer skin and – as higher temperatures can increase water loss during the summer months, it's more important than ever to stay hydrated.
Sarah, who works in social care in Yorkshire says she uses "a face mist to hydrate my skin and use factor 50 every day" to stay cool! Spritzing yourself with micellar water is a great way to feel refreshed during the day or – if you can't keep a spray bottle on you - you can also use it gently in the evening to remove sweat and oil without drying yourself out.
Skip the stress of excess sweat
Sweat and summer tend to go hand in hand but that doesn't mean you have to feel damp while on shift. Simple hacks to skip sweat (or at least limit it) include using antiperspirant before bed, cutting down on caffeine and dairy, wearing light, breathable fabrics, and investing in a personal fan.
Can't sleep because of the heat?
There's nothing worse than not being able to settle down in the evening because everything is just too hot! Keep cool at night with up to 70% off with Dusk's clearance event (plus an extra 15% saving exclusively for Blue Light Card members) or save 20% sitewide on everything from cooling pillows to lumbar support with Kally Sleep!
Keep your skin safe
Making use of the nice weather to keep your tan topped up can feel important when you don't have the time to jet off somewhere special, but we all know about the harmful effects that sun damage can have on our skin. From deepening wrinkles to health concerns, if nothing else, be sure to slap on some sun cream this summer (and every other day!) and reapply as regularly as is needed.
Shop for less and save on a decent SPF with Blue Light Card!
Get 22% off selected brands with LOOKFANTASTIC, including Benefit, Elemis, Olaplex and more
Simplify your skincare routine
Sweating more can clog pores and leave our skin feeling tired and dull. When you're on your feet all day taking care of others, it can be really hard to make time to take care of your skin. Tiffany, who works in social care in Lincolnshire, claims her routine is to "cleanse, tone, eye gel, serum moisturiser and then once a week facial scrub and mask" and we'd agree that keeping things simple is the best approach. That's why we'd suggest:
• Using a light cleanser in the morning that doesn't strip your skin of essential oils,
• Using a gentle toner to close your pores,
• (If you're going to wear makeup) combine a light liquid foundation (with SPF) with moisturiser,
• Avoiding over showering as it can wash healthy oils and microorganisms away, wrecking your skin,
• Exfoliate two or three times a week to gently remove dead skin cells and impurities.
Nikki, who works as part of the NHS in Wales, says she "cleanses, tones and moisturises daily and uses Ultrasun Factor 50 on my face all year round." She also tends to "use an oil as my evening moisturiser during the summer months for more hydration."
Love the skin you're in and don't sweat the small stuff this summer with our range of super savings and top tips on everything from holiday essentials to taking yourself on a day trip to London for less.